107.5 Dave Rocks presents: Glorious Giving with The Morning Buzz!
This holiday season, we're helping The Foodbank of Waterloo Region collect much needed items this holiday season.
On weekday mornings at 8:10, Gayle, Jessie and Darryl will reveal an item off The Food bank's Wishlist! Collect each item off the list and bring them to our Glorious Giving Food Drive at Waterloo Brewing Taphouse on Friday, December 8th from 2pm – 6pm. 
Everyone who drops off food or makes a donation to The Food Bank of Waterloo Region will go into the draw to win tickets to see The Glorious Sons at The Aud on December 16, plus qualify for a meet & greet with the band!
While you're there, grab a pint of the Dave Rocks Glorious Giving IPA (proceeds all benefiting The Food Bank of Waterloo Region) available, starting December 1st!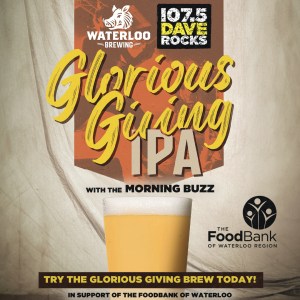 ---
Can we count on you to be Gloriously Giving this holiday season?
Send The Morning Buzz a note below to confirm you're collecting Wishlist items and they could play a song request for you!