The Waterloo Brewing & 107.5 Dave Rocks Collectible Holiday Growlers are BACK!
It's that time of year again; Time to head on down to the Waterloo Brewing retail store and grab yourself a LIMITED EDITION Dave Rocks Collectible Holiday Growler – New for 2018!
New this year: Get your growler filled with the brand new Waterloo Salted Caramel Porter (small batch brew) for just $15 plus $5 purchase of growler ($20).
Like last year, these classic Waterloo beverages are still available! Waterloo Dark, IPA, Grapefruit Radler, LandShark growler fills are $10 plus $5 purchase of growler ($15). Don't forget to bring the growler back to the retail store at any time for a refill (Prices vary by brew)
$5 from every growler sold will go to the Cambridge Self Help Food bank, helping those in our own backyard!
These growlers are VERY limited and they will not be re-stocked when they sell out, so act fast!
The Dave Rocks team will be LIVE on location at the Waterloo Brewing Retail Store (400 Bingemans Centre Drive) on Fridaqy December 14th from 10am – 2:00pm. Come rock out with us and get all of your holiday beverage shopping done under one roof. See you then!
Happy holidays!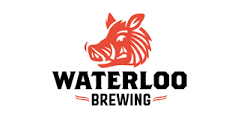 Here's D-Law enjoying the 2017 Growlers: